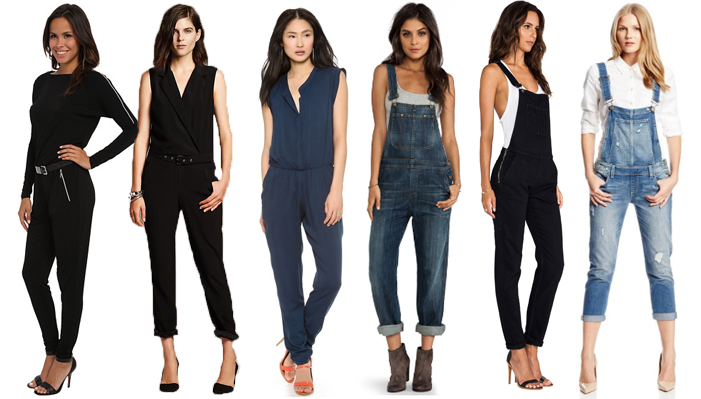 I can't even tell you how happy I am that jumpsuits are still on trend this fall and now we get the added bonus of the comeback of the (GASP!) overall. Seriously, it's crazy. Rompers/jumpsuits have been back on the scene for awhile…and the overall has slowly been clawing it's way back to fashion relevance and now we are really seeing them step it up. And what's not to love? They are easy, they are stylish and current. Who doesn't love the idea of just slipping on a piece with no stress? That's a major reason why we all wear dresses, right? Now throw in the ability to sit in whatever position you please. Don't laugh. Sometimes that can make or break the day.  These are some of my picks for the season:

Why I Like It: It's exactly what you picture when you hear jumpsuit…it's remarkably close to a flight suit but still stylish. That's right, this suit has a great spin on a look that you would never think would be labeled fashionable. The bright silver zippers extended down the sleeve give it a bit of edge too. (warning: There are several looks similar to this floating around in the trending army green color. Don't do it. You'll be crossing the line from inspiration to "is she off duty?".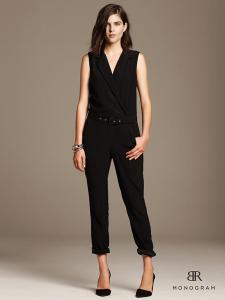 Why I Like It: This will not be the last time I say this: Banana Republic get a bad wrap (I'll expand on this later…but it'strue and don't you forget it!). This jumpsuit is great. Let's face it, most rompers and jumpsuits are not going to look good on every body type. This one is different. The top works for all chest sizes and the back has enough fabric to be forgiving for all levels of junk in the trunk.

WhyI Like It: This jumpsuit is another one that is really flattering. Its blousy, comfy, with a great textured fabric. Super easy, this one translates from brunch and errands around town to dinner with the boyfriends parents. Just add accessories.

I think one of the best things about the overall being back is the variety of finishes you can find it in. These are not your typical 1990's wash overalls. The dark wash on this keeps it fresh, but this overall has all of the classic styling of yesteryear. Pair it with a tank or dolman sleeve shirt
There is something oh-so-chic about the black overall this fall. Pair it with your favorite black and white striped shirt and a black hat and go play tourist around town for the day. This pair is extra special for it's side zip (instead of classic button closure) and interesting back silhouette.
Why I like it: They're classic. But the back skinny straps on this overall really give it something that put it above the rest. The unconventional skinny straps on this classic overall really increase its versatility and give it so much more flexibility.This top can be worn with a tank, crop top,  or long sleeved top without compromise. It's traditional enough for those hesitant about jumping on the trend and yet easily tweaked to be daring enough for the fashion forward. Win. Win.
What new ways do you plan on wearing jumpsuits and overalls this fall? Tell me in the comments below!